Product description
Special Sale 28: Honey Bunny Bluetooth + Explorer + Sticker Set
Only while stock lasts: Treat yourself and your kids and save up to 54% in the meantime!
This offer includes:
1 x Honey Bunny in the new BLUETOOTH Version
1 x Alilo Explorer Robot
1 x Alilo Sticker Set
The Original!
Honey Bunny Bluetooth
New Version: Now with Bluetooth connectivity and speech output - use your Honey Bunny as a portable bluetooth speaker!
Honey Bunny an original member of the Alilo family and has been created especially for children. Due to its ease of use, robust material and versatility, it greatly encourages the kid's creativity - the perfect gift idea for beloved children.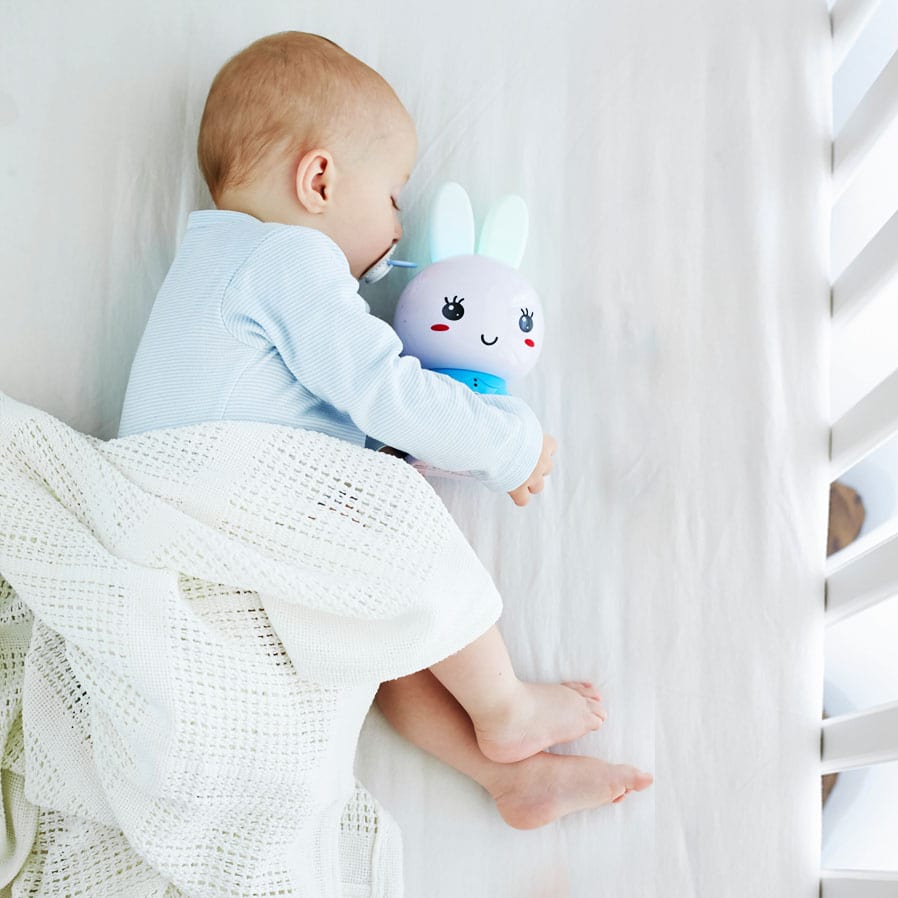 Full of Content
What's inside?
A large number of carefully selected songs and stories provide premium entertainment time and again. The long battery life enables you to take Alilo along e.g. for long car rides or waiting periods. Furthermore, Honey Bunny can be integrated into otherwise often unpopular rituals like e.g. tooth-brushing, transforming them to more interesting and fun tasks.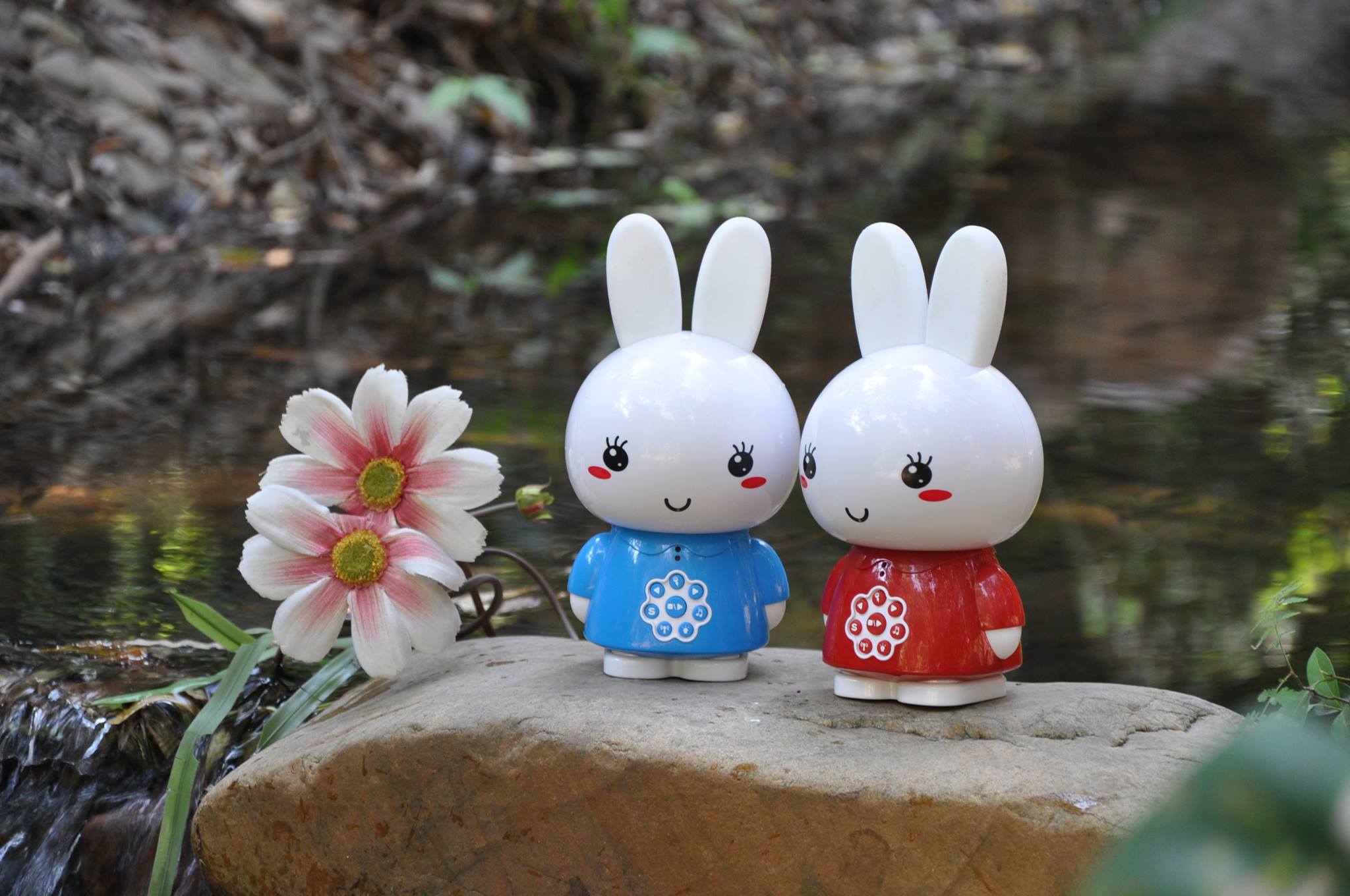 Edutainment at its Best!
Play - Listen - Record - Have fun
When playing, kids tend to involve Alilo in a natural way. Through its amiable design, Alilo becomes doll, story teller, entertainer or simply buddy. The built-in recording function sparks interest in productive technology. Also, grandparents can record their birthday message. The songs inspire dancing and singing - a joy that will stay with the child for all its life.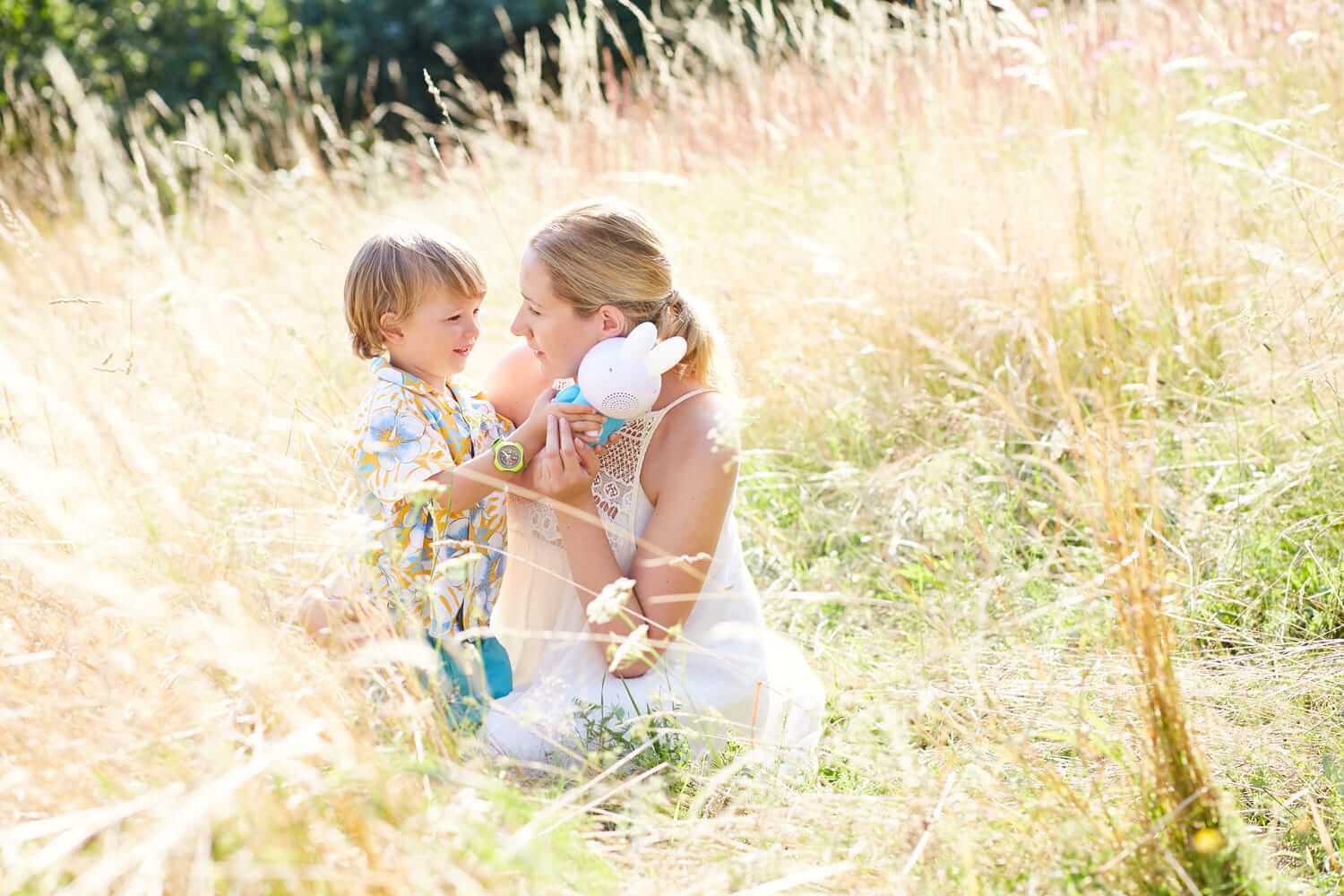 MUSIC & STORIES: selected children's songs and stories (find full list below)
BLUETOOTH SPEAKER: Simply connect Honey Bunny to your phone or PC - anywhere, everywhere! SPEECH OUTPUT: Honey Bunny now can talk to you in 3 languages NIGHT LIGHT: head & ears glow in smoothly changing colors. MAGIC VOICE: Honey Bunny will talk back what you said in a modified voice - great fun! RECHARGEABLE BATTERY: the built-in battery can be recharged without difficulty using the provided charging cable.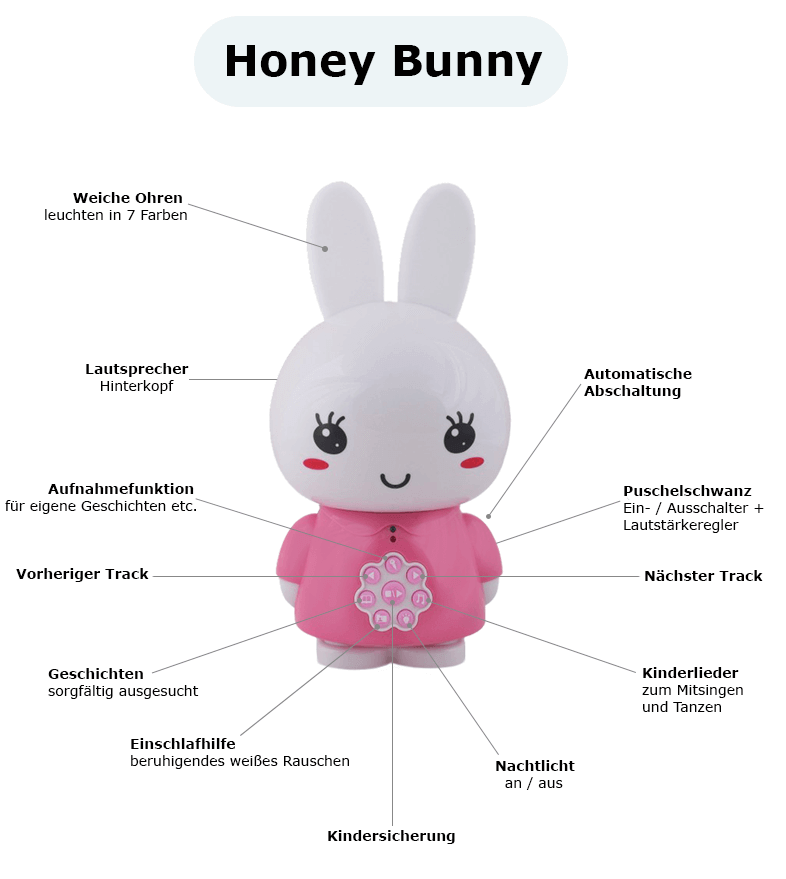 Interactive Robot
Explorer
Meet Alilo Explorer - the interactive, intelligent robot for kids.
Explorer is a technologically advanced product based on the S.T.E.A.M. education concept (Science, Technology, Engineering, Art, Mathematics). Through its focus on problem solving, logical thinking, and creativity, the robot appeals to the children's scientific mind.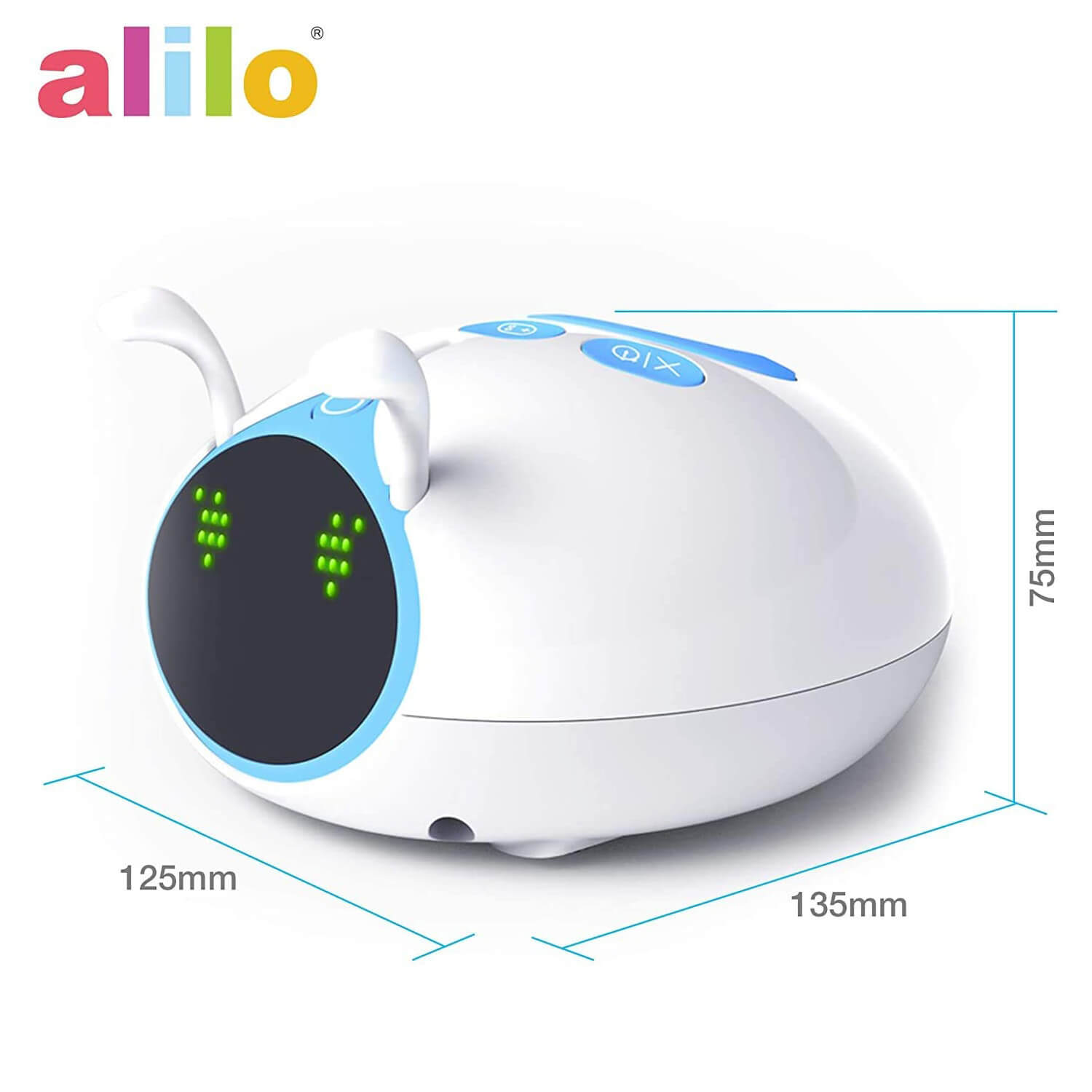 Create your own paths
Pathfinder
Programming Alilo Explorer is possible in multiple ways:
Program and save directly on the robot.
Program by laying a path from the 25 included puzzle cards that feature tasks and conditions (the manual contains suggestions for different levels of complexity)
Program on your phone using the included iPhone App (now available on the app store), then transmit the data to Explorer via Bluetooth.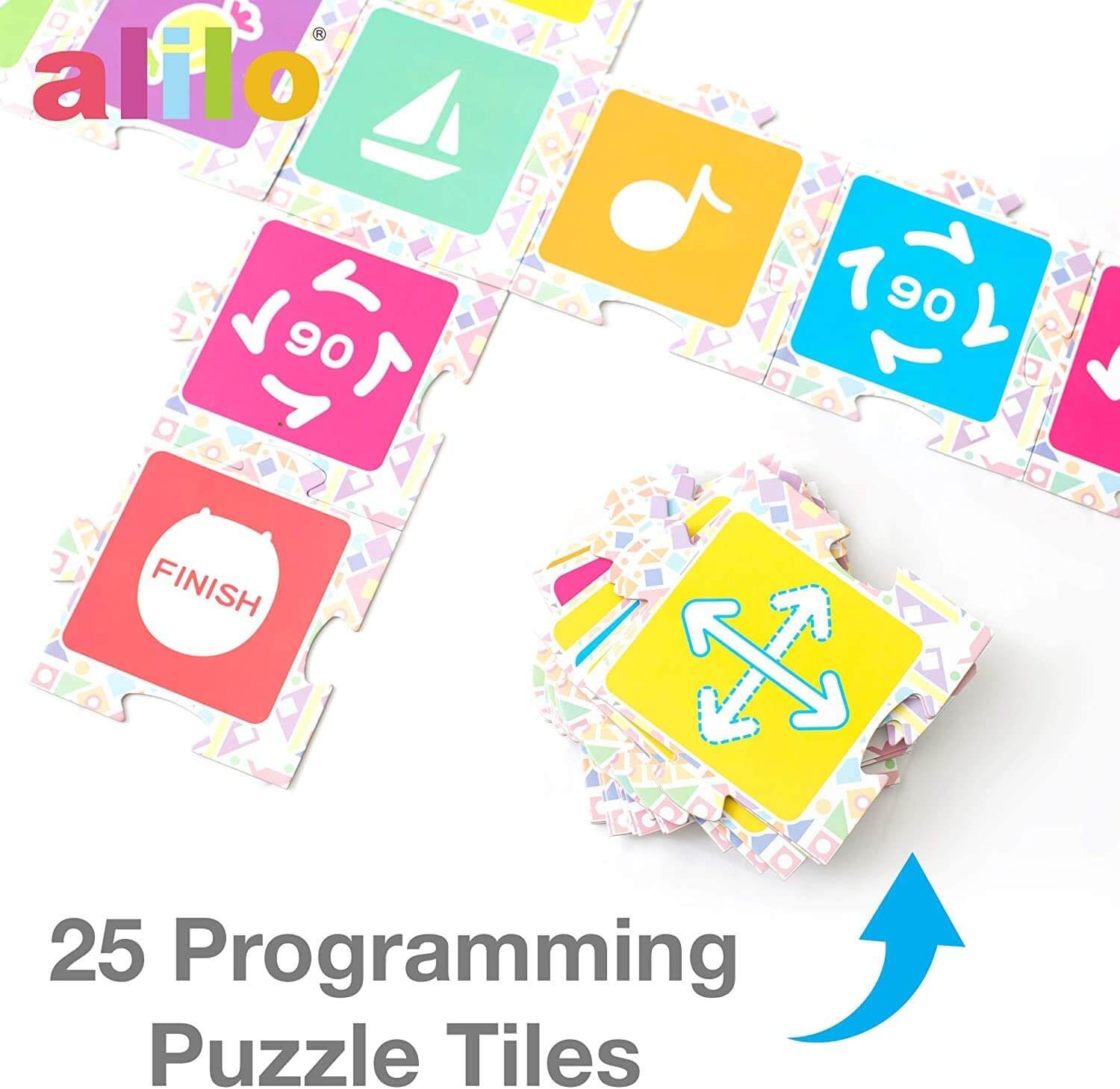 A treasure trove of good
Features
Benefits during pre-school and elementary school
Kids can manually record a path, arrange a path from the 25 included puzzle tiles, or use the free app with its 4 modes. In addition, Explorer can be controlled manually as well as from the app, thus enabling children from all ages to learn.
Early Language Learning
Explorer has simple messages and songs preloaded in English, thus introducing the English language in a fun and stress-free environment.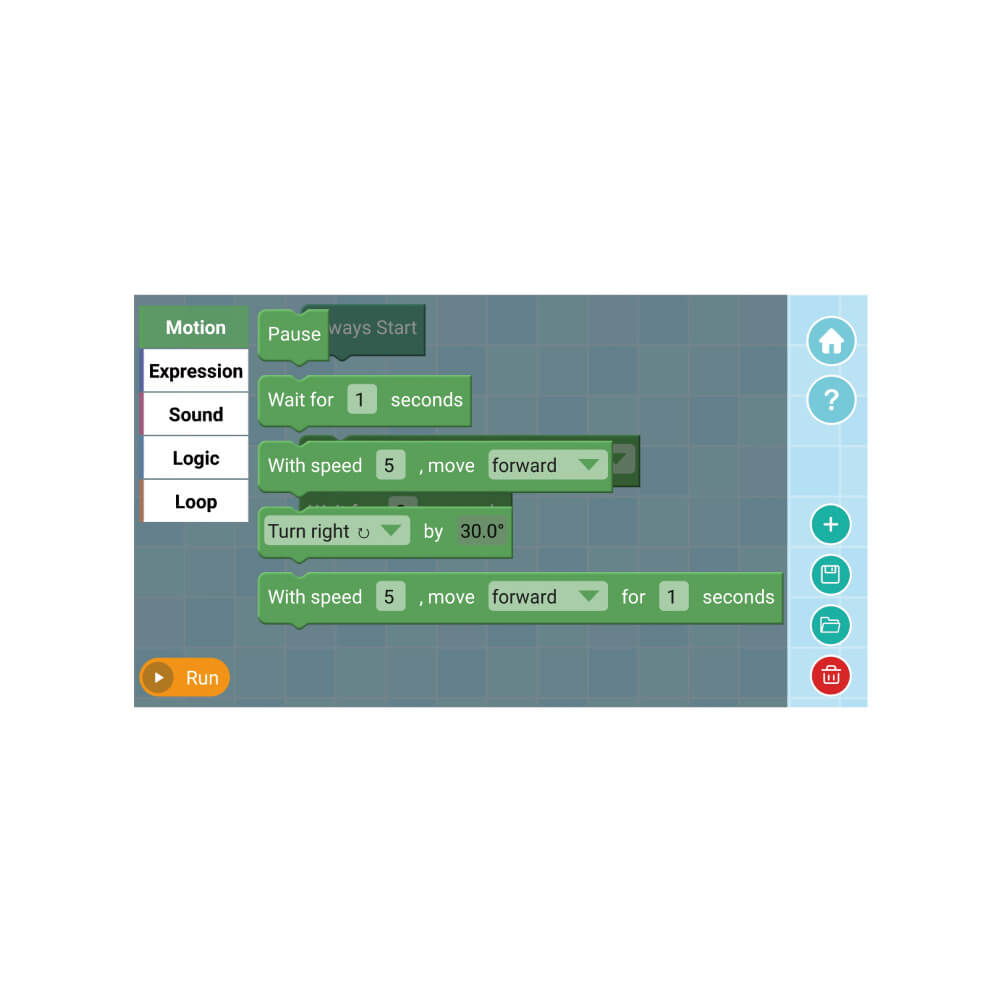 Entertainment
Due to its pre-loaded, carefully selected content, Explorer also serves as an audio player with great entertainment value.
Empathy
Explorer's facial expressions (via its display) and voice promts convey emotional states, teaching children to be empathetic. Go ahead, gently shake the robot and see how it reacts.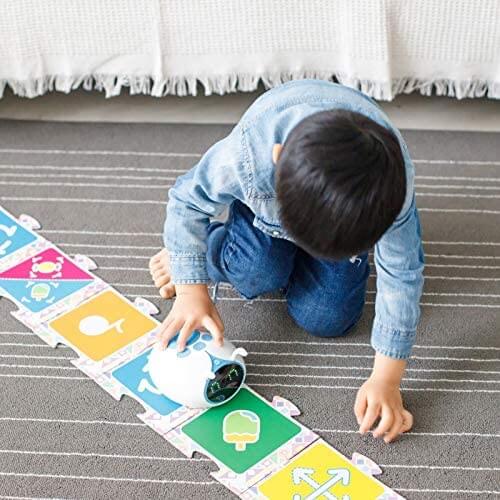 Environmentally friendly
Charge Explorer's built-in battery with the included USB calbe, making it not only a convenient and hassle-free toy for long play sessions, but also environmentally friendly.
High Quality Loudspeaker
The built-in loudspeaker produces a brilliantly clear and present sound.
Durabilty and Safety
Only certified, safe materials are used to build Explorer, making it perfectly safe for playing. In addition, due to its extremely durable ABS plastic, Explorer absorbs shocks of up to 30 times in strength, compared to conventional plastic.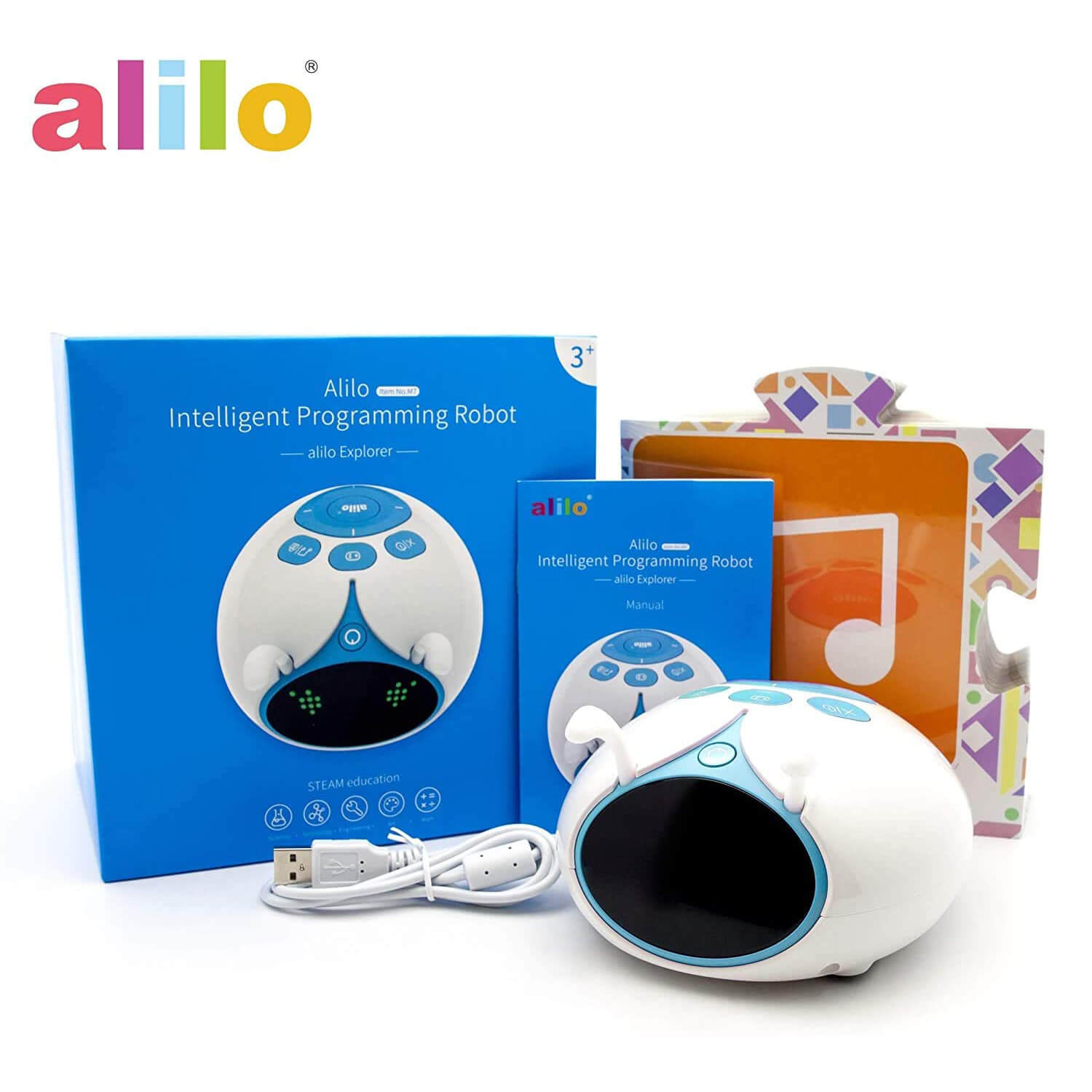 [stickers_sc]
Frequently asked questions
F.A.Q.
[ultimate-faqs]